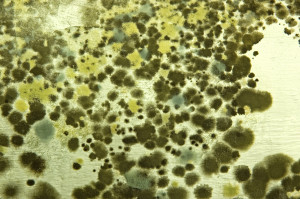 Mold is controllable and preventable. We will not accept a mold remediation job unless we know that the source of water has been terminated and the environmental conditions corrected. We want to do what is best for the occupants. We have developed techniques that surpass the IICRC S520 standards which gives us superior results during third party testing. We can safely say that little to none of our competitors are as thorough as we are in the mold remediation process.
Soda Blasting
To perform proper mold remediation, the mold's hyphae must be abrasively removed. Soda blasting is aggressive enough to remove the hyphae in all the nooks and crannies that wire bushes and other abrasive tools cannot reach.  Soda blasting uses baking soda as a media which is non-toxic and has deodorization qualities. The baking soda leaves an alkaline residue that may retard future mold growth. In any event, proper environmental controls must be put in place to prevent mold growth. We also utilize soda blasting for
Fire and Smoke Remediation.
We are IICRC Certified – Most restoration companies are not certified and not qualified for mold remediation. Some of the certifications we hold are: IICRC Certified Firm,  Applied Microbial Remediation Technician (AMRT), Applied Structural Drying Technician (ASD), Water Damage Restoration Technician (WRT), Odor Control Technician (OCT) and Master Water Restorer. Is your restoration company certified? Here is a link to the IICRC website for certification verification. Is my restoration company certified?
We are mold remediation specialists – We understand how mold develops, how to remediate it and how to prevent it. We surpass the minimum standards in the IICRC S520. We use a third party inspector for post testing and we will provide a report with the results and a clearance.
We are licensed contractors in Idaho and Oregon – Idaho RCE-31967, Oregon CCB# 198487 Not only can we remediate your home we can do the repairs as well.
We will not send temporary labor workers –  All of our technicians are our own employees and are trained to recognize the hazards affiliated with mold remediation. They passed medical pulmonary clearance by a doctor and a respirator fit test by a certified independent company. Many restoration companies will have a couple crew leaders on staff and hire temporary employees to fill the ranks. These temp workers will not have proper safety training and are not restoration technicians. This can lead to a liability exposure to the home owner.